Frankie Dettori has an incredible
nine Ascot Gold Cup wins to his name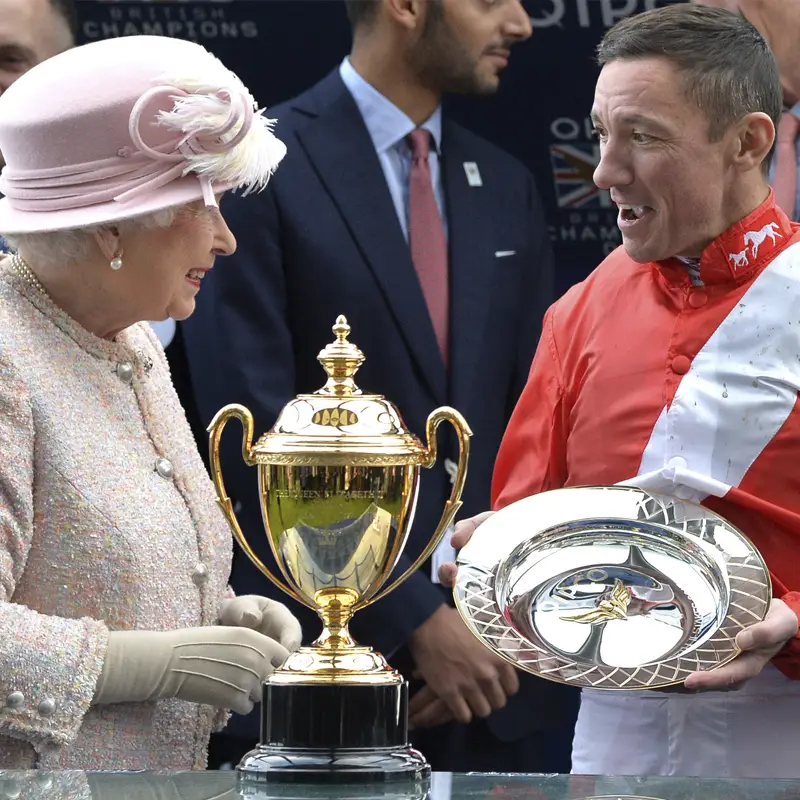 Jockey Frankie Dettori's remarkable career has been punctuated by an extraordinary feat – his nine Ascot Gold Cup victories. Dettori's unparalleled skill, tactical prowess, and deep connection with his equine partners have made him a legendary figure in the world of horse racing. His wins in the prestigious Ascot Gold Cup, a test of stamina, strategy, and sheer determination, stand as a testament to his enduring excellence.
With each victory, Dettori has etched his name in the annals of racing history, captivating audiences worldwide and earning the respect and admiration of fellow competitors. His record-breaking accomplishments in this iconic event not only highlight his exceptional talent but also serve as an enduring source of inspiration for aspiring jockeys and racing enthusiasts alike.
Frankie Dettori's Ascot Gold Cup win aboard the remarkable Drum Taps in 1992 remains a moment of enduring glory in the world of horse racing. The combination of Dettori's youthful vigor and Drum Taps' unyielding spirit made for an unforgettable performance against a field of formidable competitors
Frankie displayed impeccable timing and exceptional horsemanship, guiding Drum Taps to a thrilling victory. Their bond was palpable, as they surged ahead in the final furlong, leaving spectators in awe of their harmonious partnership.
Frankie's second Ascot Gold Cup win not only marked a significant milestone in Dettori's burgeoning career but also cemented Drum Taps' legacy as one of the finest stayers in racing history.
In his autobiography, Frankie Dettori described Drum Taps as "a hardened campaigner" and "one of my favourite horses."
"Frankie Dettori is not just a jockey; he's a superstar of the turf."
John Francome
In 1998, jockey Frankie Dettori achieved a crowning glory in his illustrious career by clinching the Ascot Gold Cup atop the magnificent Kayf Tara. This victory marked a defining moment not only for Dettori but also for the legendary stayer Kayf Tara, who etched his name in racing history.
With boundless determination and an uncanny sense of timing, Dettori guided Kayf Tara to a resounding win, showcasing their remarkable partnership and a flawless display of strategy. It was a day when the racing world bore witness to their brilliance, and Dettori's signature flying dismount became an iconic image of triumph.
Frankie Dettori's Ascot Gold Cup win aboard Papineau in 2004 stands as a testament to his enduring prowess in the world of horse racing.
Dettori showcased his extraordinary skill and strategic brilliance, guiding Papineau to a resounding victory in one of the most prestigious races in the calendar.
With a combination of impeccable timing and a deep connection with his mount, Dettori surged ahead in the final furlongs, leaving spectators in awe of their flawless performance.
Papineau's raw talent and Dettori's expert handling formed a partnership that was virtually unbeatable, securing their place in racing history and adding another glittering jewel to Dettori's crown of achievements.
"When he's at the top of his game there's never been anyone better."
John Gosden
In 2012, Frankie delivered another unforgettable performance at Ascot when he rode Colour Vision to victory for his fifth Ascot Gold Cup.
This triumph was a testament to Dettori's enduring excellence and his uncanny ability to coax the best out of his equine partners. Colour Vision, under Dettori's expert guidance, displayed remarkable stamina and determination, outlasting a competitive field in the grueling marathon race.
The partnership between Dettori and Colour Vision was a beautiful demonstration of the unspoken connection between jockey and horse. Their thrilling victory in the Ascot Gold Cup showcased Dettori's unparalleled talent and added another illustrious chapter to his storied career, solidifying his status as one of the sport's all-time greats.
Frankie's Ascot Gold Cup win aboard Stradivarius in 2018 was a magnificent display of horsemanship and a testament to the enduring brilliance of both horse and jockey.
Dettori and Stradivarius, a supremely talented stayer formed a partnership that captured the hearts of racing enthusiasts around the world. With impeccable timing and strategic finesse, Dettori expertly guided Stradivarius through the demanding course, prevailing in a thrilling and closely contested race.
This victory marked Dettori's sixth Ascot Gold Cup win and firmly solidified Stradivarius as one of the modern greats of the staying division.
"Frankie's 'flying dismount' is as famous as his wins. He knows how to entertain the crowds."
Jim McGrath
In 2019, Frankie Dettori and Stradivarius etched their names into racing history once again with another triumphant Ascot Gold Cup victory.
The dynamic duo's second consecutive win in this prestigious race showcased their exceptional bond and undeniable talent. Stradivarius, the epitome of a champion stayer, and Dettori, the charismatic jockey with an innate sense of timing, delivered a masterful performance on the grand stage of Ascot. The pair displayed incredible grit and determination, surging ahead in the final furlongs to claim victory in a dramatic finish.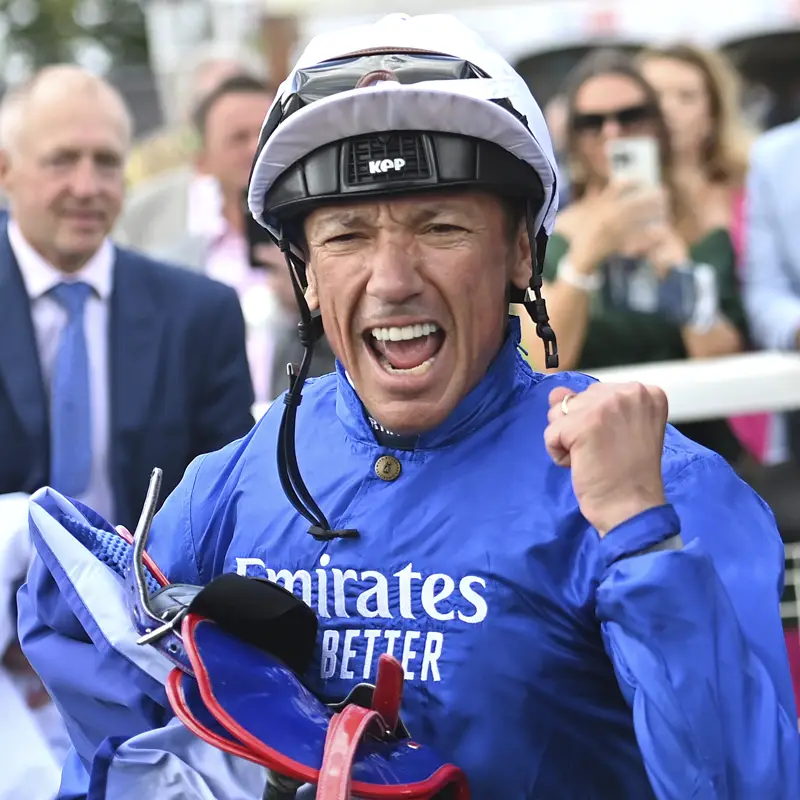 In 2020, Frankie Dettori and Stradivarius made history once again with a third consecutive Ascot Gold Cup win, a remarkable achievement in the annals of horse racing.
Their partnership had become the stuff of legends, and their performance in that year's race was nothing short of breathtaking. Stradivarius, the indefatigable stayer, and Dettori, the maestro of the saddle, displayed an unwavering determination and unrivaled synergy as they surged to victory.
In a race that demanded not only immense stamina but also strategic finesse, Dettori's deft navigation and Stradivarius' unwavering resolve secured a place for them in racing immortality.
This triumphant hat-trick in the Ascot Gold Cup not only solidified Dettori's status as a true legend in the sport but also cemented Stradivarius' legacy as one of the greatest stayers of all time, a truly harmonious partnership that captivated the racing world.
30 years after his first at the historic Royal Ascot, the greatest racing showman of the past 30 years ensured a suitably dramatic conclusion to his ninth and final Ascot Gold Cup win in June 2023.
This fairytale ending his final appearance at Royal Ascot in front of the King and Queen, he delivered Courage Mon Ami with a perfectly timed run to overhaul the favourite Coltrane, having started the long turn towards home with one horse behind him and win the £600,000 Gold Cup.